Virtu(Re)Al Playgrounds
How to digitally expand a city
SCHEDULE
Wednesday 30.6.
Panel 1  _  10.30am – 12am > Margarete Jahrmann, Stephan Doesinger, Deepa Mann-Kler
Panel 2  _  1pm – 2.30pm > David Han, Hilda Tellioğlu, Florian Bettel, Ramón Reichert
Panel 3  _  3pm – 4.30pm > Liron Efrat, Nina Glockner, Thomas Jelinek

Thursday 1.7.
Panel 4  _  10.30am – 12am > Tobias Gremmler, Gabriella Chihan Stanley, Alex Checcetti
Panel 5  _  1pm – 2.30pm > Gabrielle de la Puente, Tom Jubert, Sophie Publig
Panel 6  _  3pm – 4.30pm > Oliver Schürer, Dr. JoAnn Kuchera-Morin, Michael Loizenbauer
Friday 2.7.
Panel 7  _  10.30am – 12am > Max Hattler, Valerie Messini, Mark H. Ramos
Panel 1

Wednesday 30.6.
10.30am – 12am > Margarete Jahrmann, Stephan Doesinger, Deepa Mann-Kler
10.30 – 10.45am
Margarete Jahrmann
(Artist, Researcher, Activist Game Designer)
Margarete Jahrmann, is an artist, researcher and activist game designer, founded Area7lab and Ludic Society and magazine series on experimental game art and ludic interventions. She is the new designated Professor for Experimetnal Game Cultures at University of Applied Arts Vienna, was till then Porf. Game Design at the Zurich University of arts and Univ.-Prof. in the artistic research PhD program of the University of Applied Arts Vienna and leads since 2020 the Austrian Science Fund FWF research project Neuromatic Game Art: Critical Play with Neurointerfaces. She developed a focus on Game Art and Neuro-Epistemology experiments with a specific Ludic method and earlier founded the Ludic Society as arts project, label and international research association on play in society. As internationally exhibiting artist she works with neuroscientists, philosophers and early adopters of technologies, from Augmented Reality to AI and Artivism. f.ex. CIVA Contemporary immersive Arts Festifal Vienna 2021, Parallel Vienna 2020, Amaze Playful media festival 2018, AIL Arts Innovation Lab gallery 2020, Center of Advanced studies LMU Munich and Art|Sci Center Los Angeles (CNSI) 2019. Also check the LS playbook VOID book, premiered at the founding place of Dada, Cabaret Voltaire Zurich. Currently she is working on a series of artistic research experiments in relation to neurointerfaces and play, fostering a new form of critical play with neurointerfaces.

10.45 – 11.00am
Stephan Doesinger
(Author, Creative Director and Founder of the SAAS Platform Styliamo.com)
Stephan Doesinger is author, creative director and founder of the SAAS platform Styliamo.com
He studied at the Art University Linz and at the Architectural Association (AA) in London and worked with Ron Arad and Alessandro Mendini. He has held lectureships at the AA, the University of Applied Arts in Vienna and the ZKM Karlsruhe and has given numerous lectures at international universities and events.
For more than 25 years, he has developed exhibition designs, trade fair architecture and online projects for international clients, as well as numerous experimental projects in public spaces. In the context of Ars Electronica 2007, he initiated an architecture competition in the massive multi-player online game Second Life, which received great international attention.
He published the book "Space Between People – How The Virtual Changes Physical Architecture" with Prestel Verlag and four years later the book "Der veröffentlichte Raum" with Merve-Verlag-Berlin about "public space in the age of its digitalisation".
Stephan Doesinger lives and works mostly in Munich.
11.00 – 11.15am
Deepa Mann-Kler
(
Chief Executive of Neon, Visiting Professor In Immersive Futures at Ulster University in Northern Ireland,  Award Winning Visual Artist

)

 
Alex Deepa Mann-Kler is Chief Executive of Neon; Visiting Professor In Immersive Futures at Ulster University in Northern Ireland and is an award winning visual artist. As a TEDx speaker and thought leader she regularly keynotes on the intersection of digital transformation, technical innovation, inclusion, ethics, bias, data and AI. Neon uses immersive technologies to enable choice for people over their own health and wellbeing. Deepa directed and produced her first virtual reality experience "RETNE" built for HTC Vive and demoed at SxSW17. RETNE has had 30K global downloads. Neon launched BreatheVR, a pain management app onto the Oculus store in 2018.
Deepa is an internationally acclaimed, multi-disciplinary artist with over eleven years experience of major international exhibitions and public art programmes. As an artist Deepa has a strong focus on public art light installations, notably Light Up Leicester 2020, Lumiere Durham 2019, London 2016 & 2013 in Derry/Londonderry UK City of Culture. Royal Television Society Finalist RETNE "Interactive Entertainment" 2017. WinTech Series Finalist "Tech Start Up Of the Year" 2018.
PitchAtPalace Finalist 2018. TEDx Speaker "Being Human" 2019. Digital DNA Finalist "Tech For Good" Talking Sense AR App 2020.
www.discoverneon.com | www.deepamannkler.com | twicer:@deepamann_kler.

Panel 2

Wednesday 30.6.
1pm – 2.30pm > David Han, Hilda Tellioğlu, Florian Bettel, Ramón Reichert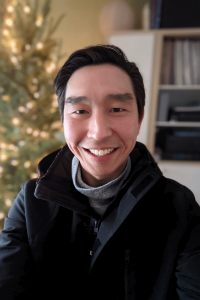 1.00 – 1.15pm
David Han
(Media Artist, Scholar and Educator)
David Han is a media artist, scholar and educator whose work employs emerging technology to explore the boundaries between computation, cinema and immersive media. His current practice employs a structural approach to explore virtual reality (VR) and aims to understand and expand the range of possibilities for creative practice in VR. His award-winning artwork has been exhibited internationally at ISEA (International Symposium of Electronic Art), FIVARS (Festival of International Virtual and Augmented Reality Stories) and VRTO and his arts-based research is funded by the Social Sciences and Humanities Research Council of Canada.

1.15 – 1.30pm
Hilda Tellioğlu
(Associate Professor)
Hilda Tellioğlu is Associate Professor at the Artifact-Based Computing & User Research Group of the Institute of Visual Computing & Human-Centered Technology as well as the Dean of Academic Affairs in Computer Science at TU Wien. In addition to more than 170 peer-reviewed scientific publications, she has led several national and international research projects and participated in many others. As a computer scientist she has been involved with both research and teaching on socio-technology, software engineering, design and development of information technology in networked (work) environments, computer support for co-operative work (CSCW) in systems design, in health care work, in architectural planning and in manufacturing, gender issues in computer science, design thinking and interaction and interfaces design, practice-based research.

1.30 – 1.45pm
Florian Bettel
(Senior Scientist)
Florian Bettel is a senior scientist at the department of Cultural Studies at the University of Applied Arts Vienna. His work focuses on aspects of the history of technology, cultures of dwelling, sepulchral culture, as well as artistic and curatorial activities. Currently he is involved in "Locus Ludi: The Cultural Fabric of Play and Games in Classical Antiquity" (in cooperation with the Université de Fribourg, funded by the European Research Council, 2019–2020) and, as project leader, is responsible for "Portfolio/ Showroom—Making Art Research Accessible" (funded by Austrian Federal Ministry of Education, Science and Research, 2017–2021).
Former occupations include: 2017–2019 senior scientist in the research project "The Entanglement between Gesture, Media and Politics"; 2012–2013 senior scientist at the focus area Science and Art, Univ. of Salzburg and Univ. Mozarteum Salzburg; 2010–2012 researcher in the project "Living Rooms: The Art of Mobilizing Belonging(s)".
Forthcoming: Florian Bettel, Irina Kaldrack and Konrad Strutz (eds.): "Throwing Gestures. Protest, Economy and the Imperceptible". Verlag für moderne Kunst, Vienna.


1.45 – 2.00pm
Ramón Reichert
(
Research Assistant Professor at the Department of Art and Education at the University of Art and Design in Linz

)

 
Ramón Reichert is a research assistant professor at the Department of Art and Education at the University of Art and Design in Linz. He currently works as a Senior Researcher and EU-project coordinator for the research project: Adressing Violent Radicalisation: A Multi-actor Response through Education, that is ISF-P funded. He is the program director of the M.Sc. Data Studies at Danube University Krems, Austria. He is a lecturer at the Department of Art Sciences and Art Education at the University of Applied Arts Vienna, and a lecturer in Visual Studies and Media Theory at the FH Joanneum, Graz and at the Mozarteum, Salzburg. He works as a researcher with a particular focus on media change and social changes in the fields of theory and history of digital media, history of knowledge and media history of digital cultures, and media aesthetics. He is the co-editor of the refereed, international journal Digital Culture & Society and he is author of New Media Reader (2007, co-edited), Amateurs in the Internet Age (2008), Big Data (2014, ed.), Digital Material/ism (2015, co-edited), Rethinking AI: Neural Networks, Biometrics and the New Artificial Intelligence (2018, co-edited), Digital Citizens (2019, co-edited), Social Machine Facebook (2019, co-edited) and Selfie Culture (2021).


Panel 3

Wednesday 30.6.
3pm – 4.30pm > Liron Efrat, Nina Glockner, Thomas Jelinek
3.00 – 3.15pm
Liron Efrat
(Researcher)
Completing her Ph.D. at the University of Toronto in 2021, Liron Efrat's research focused on Augmented Reality (AR) applications in cultural heritage and artistic contexts. In 2017-18 she was a resident scholar at the McLuhan Centre for Culture and Technology at the University of Toronto, where she studied the embodied experience in AR apps. Since 2016 Efrat serves as a data analyst and user experience assistant in the AR and VR art project "Imaginary Jewish Homelands", and she is currently working on establishing an online database of cultural heritage AR apps. As of June 2021, Efrat is also a Research Fellow at the Institute of Digital Life. Her work has been presented and published in numerous international platforms, including the International Symposium of Electronic Arts (ISEA) and ACM-SIGGRAPH.r.

15.15 – 15.30pm
Nina Glockner
(
Artist

)

 
Amsterdam-based artist Nina Glockner  holds a Master in Fine arts from Sandberg Institute (NL), a Bachelor from Minerva Academie in Groningen (NL), and has studied philosophy at Humboldt University Berlin (D). Recently she has been artist-in-residence at the Jan van Eyck Academy Maastricht.
Nina Glockner's practice–consisting of (object-based) performances, installations, video, text, and collaborative somatic research–is about exploring the thin line between executing control and being under a state of control while revealing rather than producing connections. It deals with (power) relationships among humans, bodies, minds, objects, and actions in a given space – ranging from institutional and organisational, to the private. It is about creating a dialogue between the building modules that mark the social playground and examining where subjectivity reveals an encounter with the other. And how to negotiate this encounter (un)aware of the systematic structures that influence its circumstance.

3.30 – 3.45pm
Thomas Jelinek
(
Conceptual Artist, Director, Dramaturge and Curator

)

 
Thomas J. Jelinek born in Stockholm, is a transdisciplinary working conceptual artist, director, dramaturge and curator. Is working on conceptual art-spaces, Art-Labs Art&Science projects and realized art- and media-performances, video-works, interactive space installations and light-rooms (like Tacheles Berlin, Immobile Milano, Ars Electronica etc.). He has developed and directed various performance, opera and theatre projects and specifically developed contemporary forms of theatre also for industrial sites and urban areas in Europe. He worked for television productions and urban architectural projects. One focus of his research and artistic work is on the basic mechanisms of perception and the construction of reality. He is developing interactive installations as well as transdisciplinary laboratories in between art and science.
As a curator he realized a number of transdisciplinary art ventures, international festivals, like TRANSART Croatia, and collaborative art-spaces. He is artistic director of NOMAD.theatre and co-founder, dramaturge and scenographer of Liquid Loft and founder of several art-groups and art-spaces, like MESSING-network or LABfactory.
Selection of awards: "best play" donaufestival Krems/ "best short" Kunststücke-Preis ORF, La Biennale de Lyon 2004, with Liquid Loft: Golden Lion of the Biennale di Venezia 2007.
www.nomad-theatre.org