The Peter Weibel Research Institute for Digital Cultures is pleased to announce the
WID Lectures 2020-21
The lecture series explores various approaches to the field of algorithmic intelligence, from digital corporeality to predictive processing and the dialectics of virtual space.
Cenk Guzelis
How do interactive virtual spaces using XR technologies extend the capacities of human cognition so that they function as the extensions of the human body? Do cognitive virtual spaces impact brain plasticity? Does cognition exist outside of human? What are the cognitive capacities of the virtual room? Should we consider new types of companionships with non-human digital entities that share the suffering of humans?
Charlotte Reuß
In this lecture, I will use the concept of surveillance capitalism coined by Shoshana Zuboff to talk about the aspects of prediction and self-optimization and their effects on society. Both the novel mechanisms of surveillance in the digital as well as their economic and political intentionality will be outlined. How will the life of the individual change in a world in which the horizon of decision making might be pre-selected?
Eva Maria Kraft
"Performing together is an intimate process. Having robots or machines as dance partners means developing your own way of understanding your body and developing language of movement. The fragile
connection with a lifeless piece of matter becomes an uncanny experience. It is performing with the nonhuman in us humans." (
Eva-Maria Kraft, 2019)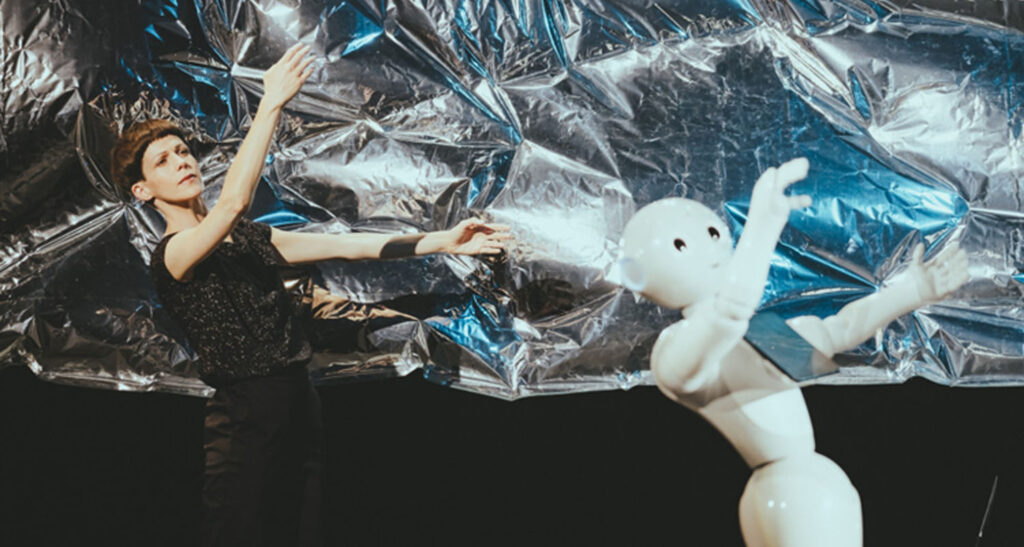 Manu
Luksch
Through her films and art works, Manu Luksch researches the effects of emerging technologies on daily life, social relations, urban space, and political structures. Her current focus is on corporate-governmental relationships and the social effects of predictive analytics in the algorithmic city.
Moritz Kriegleder
Moritz Kriegleder's lecture evaluates the concepts of enactivism and predictive processing and their implications for the future of artificial life and artificial intelligence. He is a cognitive scientist and quantum physicist based at the University of Vienna.
Christina Jauernik
Dancer, artist and architect Christina Jauernik presents INTRA SPACE (artistic research project funded by FWF/PEEK (AR299-G21) 2015-17), which is an experi-mental zone, set up to explore diaphanous relations between virtual figures, humans, technical equipment and machines.
© Esther Balfe, Christina Jauernik